Important paperwork comes in 2 main flavors –
Saved information – stuff you're saving for REFERENCE
Active information – Paperwork you are still working on or have to decide on before you can file it or toss it.
The Active information needs to be kept in, on, or around your desk (or work space if you don't have a home office desk). If you have an office with a desk, I recommend using a desktop file box or magazine boxes to keep your papers you are working on, and divide them up by your next ACTION (that's why organizers call them 'action files').
The action files most people need are:
To Do
To Pay
To Go (events, meetings, parties)
To File
Pending
Many people also like some folders for other items to process or keep close at hand such as:
Coupons/Gift Cards/Gift Certificates
Receipts to sort out/file
Opportunities (shows you may want to see, things you may want to purchase)
School papers
Phone directories
Calendar
This lucite box from The Container Store is just the right size and will show off a fabulous colored file
This file box comes in fun orange or white at The Container Store.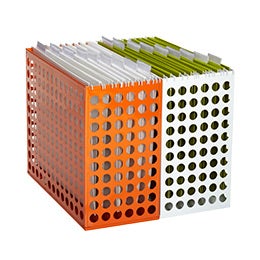 These stadium files from Smead are also wonderful for the desktop
Your REFERENCE files are items that you don't have to do anything to, but you are saving in case you need to look something up (financial papers, medical information, household maintenance, personal, insurance, etc.)
These are best stored in file drawers in an office area. If you don't have an office, consider using file drawers as and end table in your living room or bedroom.  These papers can also be scanned and stored in files on your computer (and back them up). Always keep a copy of your electric and gas company phone numbers and poison control on paper though for emergencies. In an emergency you may not have time to look something up or you may not have electricity.
If you don't want to use a traditional file cabinet, think out of the box:
File ottoman from Ballard Designs
Use magazine Boxes on a shelf to store paperwork by category if you don't have room for drawers. This is a very inexpensive option.

Photo from HGTV TV
After you decide where to put your important papers you may want to read: How to organize family papers and How to Organize What to Keep.
Allison Carter likes fun and funky organizing. She is a creative, right brainer and thinks it is more fun to organize if you love how your space looks. So she utilitzes color, shape, pattern and texture to keep herself and her stuff organized. Check out her web site at
The Professional Organizer
!
Do you have a room or area in your home that needs organization help?
No worries – the Rubbermaid Professional Organizer Squad is here with expert advice! This group of professional organizers has seen and tackled it all. Simply enter your question, screen name and email to submit your question to them (any organizing question is welcome, no matter how simple or complicated!). We'll answer and feature questions the squad can provide the best answers on. Don't worry – we'll email you if your question is selected!