Large athletic equipment can be a real challenge to store.
One of the simplest ways to store lacrosse and hockey sticks is to use a tall garbage can and stand everything upright in it.
If you would like to get them off of the floor, there are several options of hook systems you can attach to the wall to hold them up horizontally or vertically.
One of my favorites for sticks of all kinds (including brooms and mops) is this: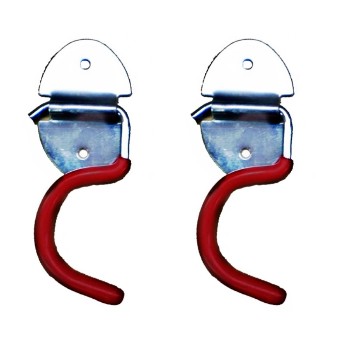 Photo from Hardwareworld.com

Hook set above from Amazon.com
For less than a dollar for each rubber-coated hook, you can hang all of your long items. It holds them  upright vertically in place against the wall with the friction of the rubber.
Rubbermaid's Fast Track system  is more elaborate and has functions that you can use forever. It has a double hook that attaches to the system's track.
This is a great solution for sports equipment with the bonus that it's easy to add, subtract, and change your hooks based on your needs.
Allison Carter likes fun and funky organizing. She is a creative, right brainer and thinks it is more fun to organize if you love how your space looks. So she utilitzes color, shape, pattern and texture to keep herself and her stuff organized. Check out her web site at
The Professional Organizer
!
Do you have a room or area in your home that needs organization help?
No worries – the Rubbermaid Professional Organizer Squad is here with expert advice! This group of professional organizers has seen and tackled it all. Simply enter your question, screen name and email to submit your question to them (any organizing question is welcome, no matter how simple or complicated!). We'll answer and feature questions the squad can provide the best answers on. Don't worry – we'll email you if your question is selected!elected!